South Charleston High School
Class Of 1961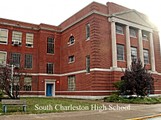 Message Forum
Welcome to the South Charleston High School Message Forum.
The message forum is an ongoing dialogue between classmates . There are no items, topics, subtopics, etc.
Forums work when people participate - so don't be bashful! Click the "Post Response" button to add your entry to the forum.
06/07/18 10:13 AM
#1

So sad to hear about our Don Pauley. He bought Sharon and my lunch at the last luncheon that he so willing organized many times.

He was the icon of our class and we will miss him terribly..

He loved his family and was so dedicated to them and to our class of SCHS 1961.

I love you, Don.

Karen Cavender (Ashby)
06/07/18 06:52 PM
#2

Don was a true friend, we had great conversations when I got around to coming home for a visit. He will be sorely missed by all his SCHS family.

Bill
06/07/18 10:49 PM
#3

Don's full obit may be viewed by logging on to the website of Barlow Bonsall Funeral Home or the Thursday, June 7, 2018 edition of The Charleston Gazette-Mail.
06/16/18 11:11 AM
#4

Don's passing is a major loss to his family & his many friends in the SCHS Class 61. A true Gentleman & Sportsman, he did Yeomans work for the Class of 61 & was considered by many to be the "BEST of the BEST" ! HE WILL BE MISSED BY ALL THAT KNEW HIM ! RIP DON.
06/20/18 07:25 PM
#5

Class Mates,

I have a copy of Don Pauley's Classmate address and e-mail list. Its from 2016. I am willing to share with anyone who needs/wants in order for classmate plans, meetings, etc..to be broadcast, whatever

Send me an email at travelerbill@bellsouth.net if youwould like a copy.

Bill Wilson
07/26/18 03:21 PM
#6

We are so sad to say that Suellen K Meyer passed away May 2, 2018. The gals that she knew since first grade living in Kenna Homes and the surrounding areas are so saddened and overwhelmed at learning this news yesterday. As you may know she lived in Louisville, KY but we have no close contacts there to find out particulars only that she passed away at home. Trina had tried to contact her for awhile and she had called her and chatted a week before this happened as she was to be in her area. They met for lunch on her visits. If you know of anything please let us know. We are working to make contact with her Louisville or other close friends and stepson. Diane
07/28/18 10:48 PM
#7

Thank you, Diane, for letting us know about Suellen. It saddens me that so many of our Class of '61 have passed away.
07/29/20 03:11 PM
#8

Hey all, trying to plan a few things for next year. Next year is the class of 61's 60th reunion. Does anyone have an idea on when it going to be held? Thanks, Bill Wilson
08/27/20 08:16 AM
#9

So sorry hear hear of the passing of Beverly Graham. Does anyone have Que's email address? Fred Hamric
08/28/20 01:36 PM
#10

Fred, hope all is well with you and yours God bless Que and Bev, RIP

Quentin.graham@att.net
08/28/20 04:40 PM
#11

Thank you Diane for Que's email. I also got a call from Jim Hawkins and note from Fred Giersch. I really appreciate your response. Fred Hamric
08/28/20 04:40 PM
#12

Thank you Diane for Que's email. I also got a call from Jim Hawkins and note from Fred Giersch. I really appreciate your response. Fred Hamric